Introduction
Established in July 2012 covering the scale of three territories (Hauts-de-France and Champagne-Ardenne),  SATT Nord is situated at the heart of a European crossroads and is a growth-generating tool for valorisation serving researchers and responding to the economic and societal needs for technology transfer.
Thanks to a multidisciplinary team of professionals (experts in the various fields of research, project managers, experts in intellectual property, legal experts), SATT Nord ensures the detection of projects, their maturation and the protection of the intellectual rights and even up to their commercialisation through transfer or through the creation of business that will make up the local, national or international industrial fabric.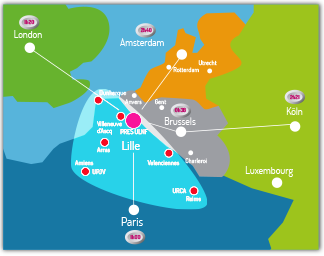 Our strategy for valorisation is in action from the start of the innovation chain and through to its effective realisation:
Project start up and design,
discovering innovations,
identifying potential intellectual property and markets,
investment,
placement on the market.
Focussed on the needs of the regions and open to the world, especially our closest European neighbours, SATT Nord is positioned to be a key player for innovation ecosystems
SATT Nord is also approved for the Research Tax Credit (Crédit Impôt Recherche, CIR)
List of research organisations approved for the CIR : http://www.enseignementsup-recherche.gouv.fr/pid24835/le-credit-impot-recherche.html
Governance committee :  Click here